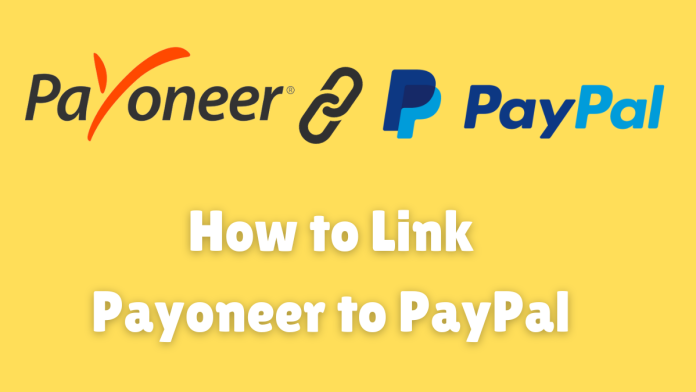 PayPal account is an online money transfer financial technology and has replaced the paper-based check account or money order. it is an American multinational financial technology and operates as payment processor. On the other hand, Payoneer is also an online financial service company that offers digital payment services and is also an American financial company.
So, if you want to make a link between these two money transfer services then, this topic is designed to fulfill all requirements for it. stay with us to make all confusion cleared.
What is a link between Payoneer and PayPal?
Payoneer and PayPal account both are online-based money transfer accounts and can be interconnected with each other. It is not a big deal to connect a Payoneer account with PayPal and, if you contain Payoneer account then this thing will lead you to use both account at a time.
How to link Payoneer to PayPal?
Here in this article we will guide you to make a connection between payoneer and PayPal account. Wisely follow all these steps to avoid any difficulty.
Step 1: If you are using a PayPal account then, first of all, you have to sign up to create a PayPal account. for this purpose, select personal account followed by signing up
Step 2: After opening personal account, you will fill out a form containing different questions like, first name, last name, middle name, country or religion, email address and password.
After filling form by giving correct data click on the next
Step 3: After this you will receive a page, this page will ask for another information such as your date of birth, street number, unit and building name, state or territory and mobile number
After giving all information, make sure that all the information is correct then, click on the agree and cerate account
Step 4: In the next page you will ask multiple option, one of them will be Not sure? Link a card to use latter simply click on this
Step 5: Next page open with options such as link card or link a bank account instead. Click on the link a bank account instead
Step 6: Simply click on the log in option in payoneer account. now, your account is ready to receive global payment service
Step 7: At the payoneer account page, click on the receiving amount. here copy Account number, branch code and bank name. then, paste all this information in the PayPal and click on the link bank account
Step 8: After selecting link bank account, a page will be exploring with the main heading that your account is ready. Shop, send money and more with PayPal. At the end of this page there will be option of go to your account
Step 9: After login click on the option confirm your Email, PayPal will send a confirmation Email when you allow it to send a mail.
Check this from your Email account
Step 10: In the mail account, you will receive an Email from PayPal. Here click on the Confirm my Email address
Step 11: To confirm your Email address, entre password and click on the confirm email
Step 12: After confirming email address, you will ask for confirm your mobile number. By confirming mobile number and clicking next button a six-digit code will be send to your mobile number
Step 13: After receiving six-digit code entre it in the respective place and click on the continue option
Step 14: After you logged into your PayPal account, a notification will appear that an amount less than $0.50 has been deposited in the national bank cheque account
Step 15: Within two days you will receive deposits in payoneer account, entre this amount in your PayPal account, now you have successfully accessed to make a usage of account by sending or receiving money
Step 16: Again login to PayPal account and on the right side of the page click on the confirm
Step 17: Now to confirm your bank account copy small deposits and paste it followed by clicking on confirm. This process will ask for 3 times, kindly follow all instructions to avoid any mistake
Finally, you are able to enjoy a PayPal account in your respective country or can withdraw it through Payoneer.
Frequently asked questions (FAQ)
Can I work on PayPal with a Pakistani identity?
No, you can't do this as PayPal does not offer any its services in Pakistan.
What are some of the alternatives of PayPal in Pakistan?
Some alternatives are Payoneer and wise in Pakistan.
How much amount Payoneer charge as a monthly fee?
If account is active, then you will not ask for any fee.
Can i use Payoneer in Pakistan?
Yes, you can freely use it in Pakistan.
How much minimum amount of money I can transfer withdraw from Payoneer?
The minimum amount which you can withdraw is $20.
Conclusion
That was all about to link a Payoneer to PayPal. A detailed step by step instruction regarding connection has been mentioned in the respective article. You can make a link by following all steps. This will help a lot to enjoy both accounts simultaneously.
Our comment section is waiting for your precious suggestion and comments.