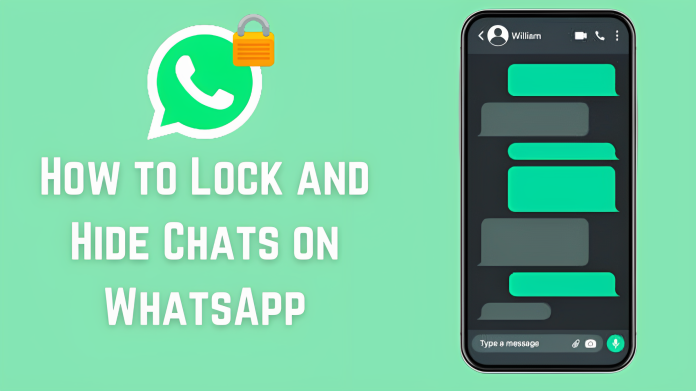 In the modern age, WhatsApp has become a very popular way of messaging and audio or video calls. It is facilitating its users with increasing features and the company is trying to add more. The people may want to hide their personal chat from anyone to approach. They want to keep it secret and that may consider a basic issue related to WhatsApp.But, as you know that nothing is impossible for the modern technologist. So Nowadays, the WhatsApp team has introduced a new feature in WhatsApp to hide your personal chat from anyone. yes! You are correctly reading that WhatsApp is now equipped with a feature to hide your WhatsApp chat. This may be breaking news for you and may comfort your way towards whatsApp.
In the respective article, we are going to introduce the complete process to lock and hide your WhatsApp chat. You are only asked to stay with us till the end.
How to lock and hide chat on WhatsApp?
As you know that WhatsApp is recently launching a hiding and locking chat feature. So, it may not work efficiently on your device. To overcome this issue, we will let you meet with more than one method to overcome this issue.
Let's have a look at all these methods one by one.
Method No1:
This is one of the best-known and easy methods to hide your WhatsApp chat and keep it away from unwanted people.
The step-by-step instructions are given as:
First of all open WhatsApp
A list of chats will be explored before your eyes, select your desired chat, which you wish to keep secret
Now, tap for a short time on the chat, at the top of the screen a down arrow option will appear that refers to the archive option
Select this option, your chat has been archived means to say that now, it is hiding from anyone
How to make hide chat visible on method 1?
If you want to approach hide conversation then, at the first number of the chat list an option of the archive will appear, your hide chat has been placed there. Tap on this and get your chat.
Pros of this method are that:
It will not ask for an additional app to install
The archive feature exists in all WhatsApp
Cons of this method are that;
Chats are not completely invisible and can be approached by everyone easily
Method No2:
For this method, you have to install and make an account on GB WhatsApp. After this, carry on the following steps.
Open WhatsApp
Click on the three dots at the top right corner of the WhatsApp
Multiple options will be here and one of them will be a lock chat option or hide option
In the lock chat option a pattern or pin will be required to hide or lock chat, put the desired pin or pattern and select desired chat to lock, the chat will be hidden until you unlock them
How to make hide chat visible on method 2?
If you want to approach hide chat then, simply click on the three dots at the right corner of WhatsApp, there will be an option to show chat, click this option all the chat will be explored.
That was all about hiding or making visible wanted chat.
Pros of this method are that:
The method is very secure to use
Nobody can approach Hide chat
Cons of this method are that:
You have to install WhatsApp GB
Method No 3:
This method is also very simple to follow. In this method, an app will be required which is App lock. You will install this app from the play store and then; activate it by inserting a pin or pattern and selecting WhatsApp to be locked. This will make WhatsApp ask for a pin or pattern when the user wants to open WhatsApp
The pros of this method are that:
You can completely lock WhatsApp rather than selecting one chat or more
WhatsApp will only be accessed with a pin or pattern
You can lock other message-based apps in your device on this app lock
Cons of this method are:
It will ask you to install the app lock
Individual chats cannot be locked
Method No 4:
This method is working on cell phones with the 2.23.9.22 version of WhatsApp. One by one step is mentioned here in the following;
Open WhatsApp followed by the conversation you want to hide
In the conversation, tap on the name of the person whose chat you are hiding. Multiple options like, mute notification, custom notification, and media visibility will be here. At the last of these options, an option containing chat lock will appear (this will not be visible for archived chat, so first of all UN archive this chat)
Tap on the chat lock
Lock the chat with a fingerprint or a face ID will appear, simply turn it ON
Confirm fingerprint or face ID
Note: this method is applicable both for Android and ios with the exception that Android will ask for finder print while, ios for face ID.
How to make lock chat visible on Method 4?
To make your chat visible on method number 4 then, go to WhatsApp chat at the top of the chat page an option locked cat will appear. Click on this at will ask for a fingerprint or pattern. Give it access to locked chat. When you exit the locked chat it automatically once again be locked.
That's all about hiding chat or making them visible again. You will be still able to have all notifications for new messages and these notifications will not be visible in areas where they explore.
Frequently Asked Questions (FAQ'S)
Can I still get notifications of messages after hiding or locking?
Yes! You will be able to get all notifications but not in the notification-specific areas.
Can I lock a single chat in WhatsApp?
Yes, you can do this in the newly launched WhatsApp announced by Meta CEO Mark Zuckerberg on the 15th of May 2023.
What is the feature behind hiding or locking WhatsApp chat?
It will make you able to keep your personal gossip away from any third persons.
Is it possible for WhatsApp developers to access conversations?
No is not possible for them as the chat is end-to-end encrypted and even WhatsApp is not able to read messages.
Bottom lines
Finally, we have reached to bottom lines. That's all about hiding or locking WhatsApp chat. This is one of the newly launched features of WhatsApp and through this method, WhatsApp is trying to facilitate its users. A number of methods are discussed in this regard with advantages to avail. It will make you easily keep your conversation personal and nobody will interrupt you.
Everything related to the topic has been mentioned, if you are finding it difficult to comprehend a point then you are permitted to ask in our comment section.